Share:
---
The Bull at Pinehurst Farms: Legendary Course by a Legendary Designer
Always a Bull Market
By Glen Turk
Do you remember where you were when the golf bug bit you? That moment of heightened awareness and euphoria all rolled into one that will lead you to do crazy things like get up at 4:30 am and drive five hours south for tee time in mid-March because there is still snow on the ground where you live? Don't deny it and certainly don't be ashamed of it - we've all done it a time or twenty-two.

While you try to recall your coming-out party, I'll share my turning point. Mine is so outrageous it was at a course that wasn't even opened yet. In August of 2002 while I worked for FOX 6 in Milwaukee as a Sports Producer, I was assigned to cover the legendary Jack Nicklaus as he finished his first signature golf course in Wisconsin, The Bull at Pinehurst Farms in Sheboygan Falls.

The front nine was about 90% complete, with only a few alternations left to be made. Fox 6 photojournalist Mickey Leach, a sports intern and I arrived a few minutes late and were told Jack and his staff was surveying the 7th hole. We were given directions and a routing map and proceeded to take a golf cart toward the 7th. Our intern drove, Mickey rode shotgun and I hung on for dear life on the back of the cart where your clubs usually go. From this elevated perch I first saw one of my favorite golf holes to this day, the par-4 432 yard 5th hole at The Bull. It was twilight, so the sun was glistening through a smattering of birch trees that signified the hole should gently turn to the left. And as I recall my hairline hadn't receded as of yet, allowing me to feel the gentle summer breeze through my follicles. It was as close to perfection as one could dream, and that was even before I got to interview Mr. Nicklaus. The entire experience cemented the fact that I loved the golf lifestyle and I had to be a part of it.

Now eight years later, the course that grabbed me and wouldn't let go is still doing so. The Bull at Pinehurst Farms has grown into a Wisconsin landmark, the type of course that could host any championship the game has to offer. The driving force behind The Bull is Dave Bachmann, the course owner and visionary. "I believe The Bull has lived up to my expectations and vision immediately upon opening from a design standpoint. The course is classic in style, fits the existing property and required minimal dirt moving, challenges the best players in the world but hopefully allows players of all levels enjoy a fair game, is a very memorable play, and stands up well in those aspects against any in the state. And to work with Jack Nicklaus was an incredible experience for me in a lot of ways. He was one of my idols growing up from the game I love the most. His work ethic, intelligence, understanding of design and hands on command of what he wanted done was a very influential learning experience to me," concluded Bachmann.

If you've ever read of our Editor's Choice Awards the following sentences are deja vu all over again. The stretch of holes 5 through 7 might be the finest collection of three consecutive holes in the state. The 436 par-4 5th dubbed "Follow-On" is a player's initial introduction to the deep woods that will encompass you for the next 45 minutes of your round. Head Golf Professional Jeremy Udovich provides the following pro tip when playing this tree-laden gem. "Club selection is the key to this intimidating but memorable hole. Your tee shot over the first bluff should favor the left center of the fairway. Long or right may run through the fairway into the rough. Your approach shot to the punch bowl shaped green will release from the front right," stated Udovich.

The following hole, dubbed "Elation," is a thrilling par-3 that's either green or ravine. On www.golfthebull.com you'll see Jack describes it as "One heck of a hole!" Well said Mr. Nicklaus, but don't just believe the 18 time major champion, as nearly every press outlet in Sheboygan County calls the 193 yard gem the best par-3 in the area.

The thrill ride continues at the decision-inducing, 321 yard par-4 7th. Bold players can attempt to drive the green, but a deep bunker 40 yards from the putting surface will stand in your way. The safer play is to lay up to the widest portion of the shortgrass, leaving a delicate wedge to an uphill green. In short, Jack Nicklaus has skillfully woven virtually every design nuance know to golf within this stretch of incredible golf. Doglegs, ravines, meandering rivers, rock formations, and multi-tiered greens all collide to form three holes from heaven at The Bull.

The back nine is just as powerful with a myriad of memorable views and shots. The first jaw-dropping hole on the inward nine is also David's favorite, the 581 yard par-5 13th. "Number thirteen is a large hole that requires three shots to reach for all but the absolute very long players. Because of that all of the twelve bunkers come into play if shots are not hit well or managed. I like the elevated green that slopes away from the fairway as it is a little different in that respect. I remember when I was 10 years old riding along with my dad on a tractor that now is the 13th hole as if it was yesterday. So there is a fun and sentimental value there that adds to my liking the hole," reminisced Bachmann.

The last hole of note on the back nine in my humble opinion is the 425 yard, par-4 16th. Through thoughtful design and incomparable land selection, Jack created a hole that must be played with precision. The key to a decent score (bogey or better) is not realizing how difficult every shot you'll face truly is. A 30 foot deep ravine separates the fairway at the 50 yard marker and creates a forced carry unlike any other in the state. Both sides in front of the putting surface are tree-lined and form a claustrophobic tunnel to a multi-tiered green that seems to break every which way but toward the cup.

In the past five years the Bachmann family has created a series of first-class amenities that have turned The Bull into a year-round destination instead of just a golf course. "The extent of the amenities in regards to my vision exceeded what I set out to do. The Heritage House event center was my father's desire and vision. It has allowed us to maintain viability throughout the winter, attract very high end events (both golf and otherwise), and fits nicely aesthetically with the surroundings. Between it and the restaurant we can provide excellent space for very small groups on up the sizes of 300+ and also conduct multiple events at one time. I believe we try to exceed our customer's expectations in golf or food and beverage at all times. Thus, we hopefully create a memorable experience for the users of anything on the property." For more information on The Bull, which will be hosting the 2012 Wisconsin Senior Open and the 2014 State Open, visit their website at www.golfthebull.com or call 1-800-5-THEBULL.


Article Tags: The Bull at Pinehurst Farms
Revised: 10/07/2010 - Article Viewed 22,509 Times - View Golf Course Profile
Share Comment
Written By: Glen Turk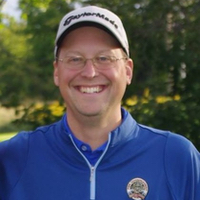 Glen Turk is a Wisconsin native and is the Senior Writer/Editor of Midwest Golfing Magazine. Midwest Golfing Magazine was formerly known as Pub-Links Golfer's Magazine and is a free publication distributed four times per year throughout Wisconsin, Illinois, Michigan, Minnesota, Iowa, Indiana, and Ohio.

His duties at MGM include writing course features, facilitating product testing, and overseeing the overall content and look of the magazine. But clearly his most important task is playing as much golf as his wife allows. Fortunately for him, she plays also and loves out-driving him even with a 60 yard head start.

Glen plays to a 6 handicap but once set a record by having his ball retriever regripped 15 times in one calendar year. It was a December trip to Guam that ultimately did him in. Finally, if you haven't caught on by now, the two most worthy weapons in Glen's writing arsenal are self-deprecating humor and pithy one-liners.

My signature line, "Be A Force on The Course" and now more recently, "Hit 'Em Where They Mow!" can be reused at no charge.