Share: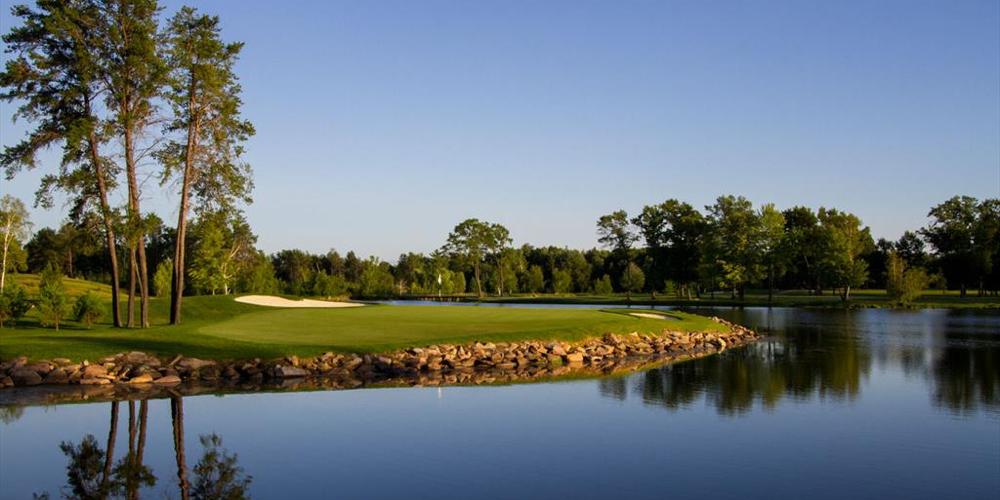 Savor SentryWorld - Golf Course Review
By Jerry Slaske
SentryWorld never fails to impress. Beauty, brains and brawn...this place has it all.

If the famed flower hole is all you think of when you hear SentryWorld, you don't play enough golf to appreciate what this course and the game are about. Despite the 16th hole's beauty - and it is beautiful - believe it or not, it doesn't do justice to SentryWorld, perhaps one of the most playable and fun major-league courses you'll ever tee it up on.

BEAUTY: SentryWorld is located in the heart of Wisconsin's northwoods, in Stevens Point, where lakes, rivers, towering pines, rolling hills, and fine sandy soil are legend. And, except for the hills, those characteristics are carried over to the course. Stand on any tee and every fairway is framable.

BRAINS: Don't let SentryWorld's beauty lull...or dull...your golf sense. This is a course that must be dealt with. Its beauty can become a beast if you don't think before you thump. Water comes into play on 11 holes; 57 stunning, meticulously groomed white sand bunkers protect the greens and doglegs (#5 has the most sand and water, plus it's arguably the most difficult hole). Obviously, flowers come into play on one hole.

Then there are the green complexes...the best and most challenging you'll find anywhere. Fairways and fringes melt like a mirage into the greens, so it's difficult to determine where one ends and the other begins. The greens themselves are fast and undulating with ridges and dips difficult to see from the fairway. That's why, when playing, it would be nice to have simple topographical layouts of each green on a single sheet. You don't necessarily need pin locations, but knowing how to get to wherever the pin is on any given day would be helpful. Get out of position and three-putts or worse are commonplace.

BRAWN (not Popeye, but not Wimpy either): At just over 7,100 yards from the tips (slope 139), SentryWorld is not the longest (length is overrated anyway) or the toughest. While accuracy is the most important factor here, you still will need to bring some heat, particularly on #s 1, 5, 6, 9, 13, 15, and 18. To have the most fun, play the right tees for your game; each hole has five sets. The only thing missing are dramatic elevation changes, but one doesn't seem to notice with everything else that's going on.

During most of July this year, SentryWorld is hosting the US Girls' Junior Championship. For the past several years, Stevens Point-based Sentry Insurance, owner of SentryWorld, has sponsored the PGA Tour's Tournament of Champions in January in Hawaii, bringing together the prior year's champions for what was long-considered the tour's season-opener. All of this, of course, indicates Sentry has larger aspirations for this masterpiece created by Robert Trent Jones, Sr.
From its sprawling two-story wood clubhouse that includes an indoor tennis center, conference rooms, pro shop, and PJ's restaurant, to its park-like setting which includes Sentry Insurance's headquarters, to its world-class golf course, SentryWorld is to be savored.

When entering the property, you feel as if you're on holiday. And if that doesn't do it, the genuine hospitality of the employees will. You won't find a more tranquil or friendly place to play/stay a day or two or three or four. Even if you're not a golfer, come and breathe in the beauty while enjoying a libation or lunch on the tree-shaded patio of PJ's restaurant.

Though there are several nice hotels just outside the property (everything is nearby in the charming and vibrant Stevens Point, which sits astride the Wisconsin River), what would turn SentryWorld into a family as well as a premier golf destination would be an on-site resort hotel.

Within 30-45 minutes, you'll find other great courses, like Sand Valley, Lake Arrowhead, Wild Rock, Trapper's Turn, and Northern Bay, all adding to Wisconsin's reputation as one of the world's best places to play golf.

And SentryWorld is a big factor in that equation.

View Course Profile
Revised: 07/02/2020 - Article Viewed 11,614 Times
About: Jerry Slaske
---

KEY Milwaukee is a tradition in Wisconsin's largest city. As the leading visitor guide in Southeastern Wisconsin, we're distributed in hotels, motels, restaurants and visitor centers throughout the metropolitan area, beginning at the Illinois-Wisconsin border.
---
More Articles by Jerry Slaske