Share:
---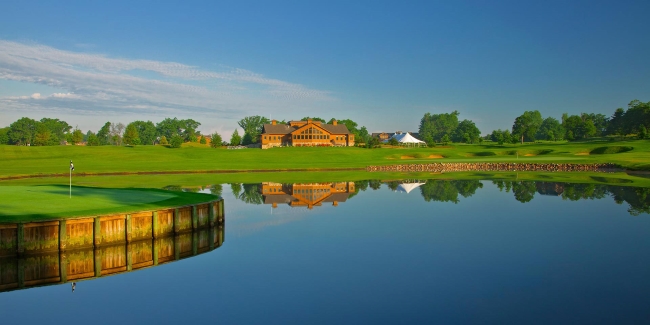 Northern Bay Resort - A Million Miles From Ordinary
The Midwest's Only Replica Golf Course Resides in North Central Wisconsin
By Glen Turk
The marketing man inside of me has always contented that in order for a catchphrase, slogan, or motto to be effective it must be bold, accurate, and memorable. Northern Bay Resort's "A Million Miles From Ordinary" fits all criteria to a tee.

Even though Northern Bay Resort and the companion Castle Course is only 27 miles north of Wisconsin Dells in Arkdale, WI, it's a clear reminder of how civilization can turn into the north woods in a blink of an eye. Towering pines, a myriad of forested sights and smells, and near total silence greet golfers during their four hour get-out-of-the-hustle-and-bustle experience.

As the Midwest's only replica golf course, The Castle Course transports golfers on a tangible tour of some of the finest holes constructed in the United States. Seven of the 18 holes are facsimiles, including two from the famed Augusta National, home of The Masters. John Skemp, The Castle Course's new head pro, says choosing a favorite is tough, but a legendary hole from Amen Corner gets his top billing.

"My favorite replica hole would be number 11, our take on the 13th at Augusta National," began the 30 year industry veteran. "I enjoy playing par-5s that give you options on your second shot, as the golfer can either lay-up or go for the green. As you make the left turn around the corner of the dogleg it is a really awesome setting. I love how they made the right side of the hole slope way up, as you are in your own little world playing down toward the green," concluded Skemp.

Other features of note you'll be able to experience include Oakmont's famous church pew bunkers, TPC Sawgrass' island green, and Bay Hill's famous 18th green. The replica holes are expertly woven into the natural terrain and don't feel contrived in anyway. In fact, I have written before that many of The Castle Course's 11 non-replica holes could be copied by another facility someday, they are that memorable on their own.

"I completely agree as I personally enjoy some of the holes on the back nine even more than the replicas," stated Skemp. "What makes these holes great is how they conjure an 'up north feel' as you wonder through the pine trees. Not that any of the holes are particularly narrow off the tee, but are framed well, which reminds you of playing some great old courses in our area like Stevens Point CC and Bulls Eye," ended Skemp.

In 2016, Northern Bay Resort will be celebrating their 10th anniversary season, a feat that was in jeopardy six years ago. A brief timeline shows what an active history the young property has had. Northern Bay Golf Resort and Marina (the property's original name) was opened to the public in 2006 with the Lodge at Northern Bay, a condo hotel debuting a year later. It didn't take long for national pundits to douse Northern Bay Resort with heavy praise. In fact, Golf Digest named Northern Bay as one of its Top Ten New Courses for 2007. More awards and accolades followed, but regretfully that did not translate into sold out tee sheets during the economic downturn of 2008 and 2009. Northern Bay Resort was put into receivership in January 2010 and things looked dire for such a promising property.

But on May 21, 2010 eighteen investors led by managing partner Darrel Malek purchased Northern Bay Golf Resort and Marina from Anchor Bank and renamed the golf course "The Castle Course at Northern Bay" while the entire resort was renamed "Castle at the Bay." In addition to purchasing the existing 231 acres, the group also purchased the right to build 24 additional condominiums and a vacant 35 acre lot located next to the golf course that originally was supposed to be a water park.

Today, the property name has been streamlined to Northern Bay Resort and the 7,207 yard, par-72 championship course goes by The Castle Course. The course received its name thanks to nearby Castle Rock Lake, although our group argued that we were playing a course fit for royalty and a castle is where royalty resides.

On a perfect, late fall day MGM was able to say hello to an old friend, a friend that is clearly getting better with age. The course superintendent must have known we were coming as most of the blue tees were even with the blacks so we got to experience a brawny course measuring nearly 7,000 yards that allowed us to use every club in the bag and understand that par was a score to be coveted.

After a short par-4 and consecutive par-3s start the proceedings, The Castle Course shows its teeth on the rest of the front nine. The 480 yard par-4 4th hole is a tribute to Oakland Hills in Michigan and must be played with caution. A narrow, grassy ravine cuts across the fairway and needs to be avoided to ensure a stable lie and stance. Two holes later, the 625 yard par-5 Firestone CC inspired behemoth forces golfers to hit driver, fairway wood, and potentially another fairway wood to a green protected by water and bunkers. The inward nine ends with a 448 yard par-4 that usually plays into the wind and features a large, double-tiered putting surface.

The course's centerpiece actually resides at the center of the property and is one of the most photographed holes in the Badger State. The Castle Course's homage to the 17th at TPC Sawgrass may only play 146 yards from the tips, but an island green surrounded by water and swirling winds make par a test in courage and execution. While there is no official count on the number of golf balls that are recovered each fall, it's a safe bet their staff's Christmas Party could be funded on the recycled profits.

As John Skemp mentioned earlier, The Castle Course turns from solid to stunning on holes 13 through 17 - five original holes that any course would love to have in their arsenal. The par-4 13th features my personal favorite tee shot on-site, as golfers are asked to hit a baby draw from an elevated tee to a flowing fairway. The green is tucked in a small bowl and more times than not an approach shot will release towards the flag if landed long and slightly right of the target.

Have you ever stood on a tee box and thought "Wow, I don't remember this hole being this good!" Such is the case with the 411 yard, par-4 16th - a straightaway par-4 that is anything but straightforward. An elevated tee box leads to a narrow fairway that gently slopes from right to left. A fairly large green is protected by a huge mound short right that feeds to the putting surface and brings in a bit of strategy if the pin is short right.

The 151 yard 17th is a beautiful late round par-3 that can often be made more difficult by gusty winds. The finishing hole is a tribute to Arnold Palmer's famous Bay Hill course and is highlighted by a green protected by water short right and cavalcade of bunkers behind the putting surface. Play for par on the 18th unless your only goal in golf is to make at least one birdie per 18 and you are still stuck on zero. Somehow, someway, I rolled in a 12 footer to get off the shied and allow my post round meal to taste a bit better.

Speaking of food, Northern Bay Resort has renovated their bar and restaurant area with their greatest view in mind. Debbie Carroll, Northern Bay Resort's Director of Sales & Marketing, explains from there. "The main dining room at the clubhouse has been remodeled which now gives it a warmer and cozier feel," stated Carroll. "The bar has been relocated so that it faces the windows and overlooks The Castle Course #10 replica hole of TPC Sawgrass #17. The back dining area has also been expanded and has more seating that can accommodate 85-100 guests. The patio deck can also be used for more seating or cocktail hour. For larger events, our event tent is located adjacent to the main clubhouse and can accommodate up to 160 guests," said Carroll.

It is also important to point out that Northern Bay Resort is not just a retreat for golfers looking to get away from it all, it is a halcyon paradise for families that enjoy all outdoor activities. "Along with great golf at The Castle Course, a golfer's vacation getaway can also include activities such as fishing, boating, tubing, skiing or just relaxing on the beach and enjoying some of the fantastic sunsets that are in this area," said Carroll. "Vacationers can bring their own boats and rent a boat slip during their stay or if they don't own a boat or want to drag it along they can rent one of our pontoons or a wave runner. Northern Bay Resort also has volleyball, tennis and basketball courts located by the Tiki Bar and pool area. We politely remind our guests they will need to bring their own equipment to enjoy these amenities," ended Carroll.

In conclusion, Northern Bay Resort in Arkdale, Wisconsin is "A Million Miles From Ordinary", but close enough to enjoy! For more information on the entire property and its amenities, visit www.northernbayresort.com.

Revised: 03/03/2016 - Article Viewed 20,620 Times
Share Comment
Written By: Glen Turk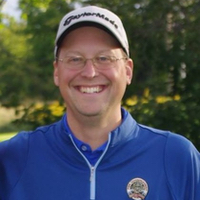 Glen Turk is a Wisconsin native and is the Senior Writer/Editor of Midwest Golfing Magazine. Midwest Golfing Magazine was formerly known as Pub-Links Golfer's Magazine and is a free publication distributed four times per year throughout Wisconsin, Illinois, Michigan, Minnesota, Iowa, Indiana, and Ohio.

His duties at MGM include writing course features, facilitating product testing, and overseeing the overall content and look of the magazine. But clearly his most important task is playing as much golf as his wife allows. Fortunately for him, she plays also and loves out-driving him even with a 60 yard head start.

Glen plays to a 6 handicap but once set a record by having his ball retriever regripped 15 times in one calendar year. It was a December trip to Guam that ultimately did him in. Finally, if you haven't caught on by now, the two most worthy weapons in Glen's writing arsenal are self-deprecating humor and pithy one-liners.

My signature line, "Be A Force on The Course" and now more recently, "Hit 'Em Where They Mow!" can be reused at no charge.