Share:
---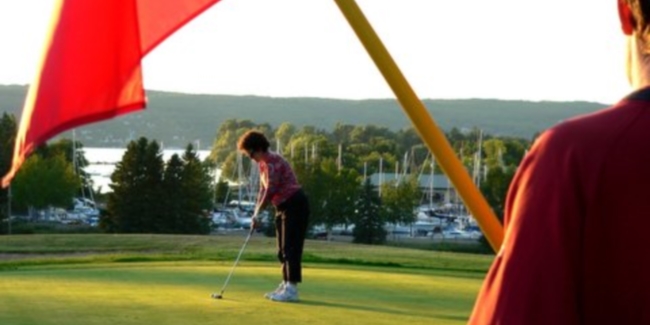 Getting To Know: Madeline Island Golf Club
An Insightful Interview With Jeff Obst, PGA Professional
By Brian Weis
Whether you have played a course 20+ times a year or looking to play the course for the first time, insights from an insider can help enhance your golf experience. Below is an interview with Jeff Obst who shares some valuable tidbits about the course, memorable holes and must eats and treats at the 19th.

Give Our Readers An Overview of the Golf Course/Property
The golf course property of the Madeline Island Golf Club (MIGC), without formal designation as such, is really a "nature area". It abounds with a large variety of gorgeous and mostly mature trees ranging from old, yet still very prolific, apple trees, to younger white pine, oak, and birch.

Walking through this cozy canopy of trees, you could easily stumble upon a large patch of wild raspberries, or blueberries. Who could blame you for being late for a tee time if sampling these free treats took you longer than expected? Then, while on your way hoofing it to the clubhouse, you decide to follow a winding pathway that leads you in the direction of a thicket of red osier dogwood that is sharing sunlight with a patch of beautiful common purple lilacs. You pick a few of these lilacs and turn round to head toward the clubhouse when you inexplicably spin back towards the path having felt some shiver of excitement at guessing what must lie beyond the turn ahead. You step forward and there lying in some spring clover is the most beautiful, precious just-born-yesterday fawn all by itself and looking up to you with surprised, innocent eyes and with a calm countenance that you will do it no harm.

As you venture to and fro on this property you may see one of the plentiful fox that den on the island, or a black bear, an eagle soaring in large circles overhead, or a no-nonsense hummingbird streaking its way towards a treasure of nectar hanging from the window sill of the nice older lady who sells her homemade apple pies to hungry tourists here.

There are vistas of Lake Superior from this property, for example from number nine green, where you can look over the tree tops and see a colorful palette of sailboats in various stages of embarking on a good sail through the crystal clear waters of this great lake. Leaving a telltale larger wake astern are the many fishing boats captained by old salts who keep the whereabouts of their favorite fishing holes very tight to the vest. Finally, winding its way amidst the tapestry of nature described above is a very unique, challenging, and intentionally rough-around-the edges golf course designed by one of the most famous, prolific, and highly regarded Golf Course Architects of all time, Robert Trent Jones Sr.

In Jones' nearly 70 year career he designed or redesigned over 500 golf courses including Hazeltine Golf Club, Congressional Country Club, Valderrama Golf Club in Spain, and many, many others including only two courses in Wisconsin: The Springs Course at the House on the Rock and Golf Club in Spring Green, WI (1971), and the Madeline Island Golf Club in La Pointe, WI (1965). It should be noted that Mr. Jones redesigned many holes of the Milwaukee Country Club; however, the original designer was Walter Travis.

If Someone Was Looking To Golf In The Area, Why Should They Play Your Course?
There is no other course like this in the entire Midwest. A golfer should play this course because it is an absolutely unique course with players starting fourteen holes at adjacent yet distinctively separate tee boxes, onto wide fairways that are usually separated by groves of trees, and finally with their approach shots to huge double greens where you will see both a red flag and white flag on different portions of the putting surface. We play the red flags on the front nine and the white flags on the back nine. Magically, it is rare when two foursomes approach the green at the same time, but should this occur, the folks playing the back nine have precedence over those on the front. Further, how many golf courses can offer the challenge of a 180 foot putt on several of their greens? You can have a putt so long here that when tending the pin you must make a noise of some sort so the person putting can discern the general direction of the hole because she or he cannot see you your so far away.

What Tips or Local Knowledge Would You Provide To Help Them Score Better At Your Course?
To better your score at MIGC it helps to know something about the motivations and design philosophy of Robert Trent Jones (RTJ). Jones believed that "...every hole should be a difficult par and an easy bogey." Along these lines he would say, "Challenge the best and make it fun for the rest." Thus many of his designs incorporated risk/reward options and angles created by inclusion of numerous strategically placed water hazards and bunkers. He built long tee boxes that gave tournament directors several options and versatility in setting up a course for competitions. He was known for building huge greens that allowed numerous pin placements. Finally, he sculpted the land minimally, but moved just enough soil to create subtle, unseen increases in elevation on approaches which meant that players needed a sharp eye and judicious club selection if they wanted to avoid landing short on many, many of the holes he designed. This particular subtlety is very much part of the design of MIGC.


Recent Awards or What You Are Most Proud About The Course?
MIGC is a golf course that is semi-private. This means that this unique course is open for the public to enjoy seven days a week, open to outside events, and it is a key social gathering place for its members who realize the important lessons about character, honesty¸ failure, and success that golf teaches young and old alike. In this vein, members felt so strongly about keeping a viable golf course on this island that they placed an easement on the golf course deed restricting its use "...only for golf and permitting no residential or commercial development."

Most everyone who has played this course will agree that Robert Trent Jones Sr. must have used most of his design philosophies and theories in the formula he used for shaping Madeline Island Golf Club into the beautiful and challenging landscape and test of golf that it remains today.

What Is The Signature, Most Talked About, or Most Photographed Hole?
Most players would likely choose number 6 and 15 as the signature holes. You start either of these holes from adjacent but separate tee boxes, where players hit drives onto one wide fairway for the first half the hole, then, if playing 6, aim their approach shots in the opposite direction of 15 green thus playing a dogleg left on the front side. When playing the back side the opposite occurs. Players hit drives to a shared fairway, then, if playing #15, aim their approach shots in the opposite direction of #6 green, thus playing a dogleg right. Number 6 green is very steep from front to back and is famous for tagging players with their first three, or four, putt of the round.

In addition, there is a vantage point for great photography from where #6 and #15 fairways split. Stand in the middle of the #15 fairway there and look towards the northwest for colorful sunsets, contrasts of sails and blue water, and various birds of prey riding the lofty currents of wind in search of sustenance.


What Is Your Favorite Hole? Any Tips to Play It?
My favorite holes are numbers 9 and 18. I say this because they are very visually deceiving holes in terms of judging distances to the green. If you don't choose the right club you will end up either in the large pond short of the green or down a steep bank behind the green in thick rough with trees blocking some recovery shots and the steep bank making any recovery a blind shot to the green. The large double green on these holes is situated in such a manner that the combination of surrounding trees and wind patterns seem to create swirling winds just forward and above the green which mysteriously carry the ball in directions and heights totally unanticipated. Add to that mischief the fact that many bets are settled on these holes giving anxious players plenty of reason to stay calm and think positively rather than - I won't mention the word "choke" from dwelling in negativity at the thought of hitting their ball into the large pond just ahead. The recommended strategy here is hitting a slightly lower boring shot that will stay under the wicked wind swirling above the tree tops and have enough backspin to grab the turf on the green and settle gently about ten feet from the cup. If that is not possible, then simply grab about two clubs more than you think you need for the distance to the green - and pray.

Must Have Dish or Drink after the round at the 19th Hole?
Find any number of places very nearby the golf course where you can kick your socks and shoes off and dip those pinkies in the cool pristine water of Lake Superior rehydrating yourself with an "Arnold Palmer" (half ice tea and half lemonade) so as to establish a base of tranquility for an evening of Wisconsin beer, whitefish or trout fillets, and plenty of golf stories from friends with creative minds, a cheery willingness to lose a few bets, and the smarts to expect the winners to buy drinks for an appropriate length of time.

Back Tee Stats
Par: 71
Yardage: 6000
Slope: 127
Rating: 69.7

More Information
Madeline Island Golf Club
498 Old Fort Road
La Pointe, WI, 54850
715-747-3212
http://www.madelineislandgolf.com



Revised: 05/01/2013 - Article Viewed 21,349 Times - View Golf Course Profile
Share Comment
Written By: Brian Weis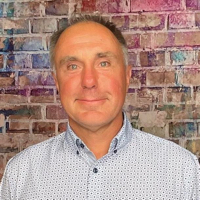 Brian Weis is the Publisher of GolfTrips.com, a network of golf travel and directory sites including GolfWisconsin.com, GolfMichigan.com, ArizonaGolfer.com, GolfAlabama.com, etc. Professionally, Brian is a member of the Golf Writers Association of America (GWAA), International Network of Golf (ING), Golf Travel Writers of America (GTWA), International Golf Travel Writers Association (IGTWA) and The Society of Hickory Golfers (SoHG). In 2016, Brian won The Shaheen Cup, an award given to a golf travel writer by his peers.

All of his life, Brian has been around the game of golf. As a youngster, Brian competed at all levels in junior and high school golf. Brian had a zero chance for a college golf scholarship, so he worked on the grounds crew at West Bend Country Club to pay for his University of Wisconsin education. In his adult years, his passion for the game collided with his entrepreneurial spirit and in 2004 launched GolfWisconsin.com. In 2007, the idea for a network of local golf directory sites formed and GolfTrips.com was born. Today, the network consists of a site in all 50 states supported by national sites like GolfTrips.com, GolfGuide.com and GolfPackages.com. It is an understatement to say, Brian is passionate about promoting golf and golf travel on a local, regional, national and international level.

On the golf course, Brian is known as a fierce weekend warrior that fluctuates between a 5-9 handicap. With a soft fade, known as "The Weis Slice", and booming 300+ drives, he can blast it out of bounds with the best of them.
Contact Brian Weis:
GolfTrips.com - Publisher and Golf Traveler
262-255-7600