Share:
---
Kettle Hills Makes Major Course Renovations
Ponds Hole 9 and Rolling Hole 9 Improvements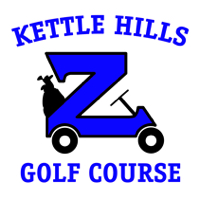 Major renovations to Ponds #9 and to Rolling #9 took place October. The bulldozers and backhoes came out to help shape the course to provide fairer tee shots with better landing areas on both holes.

Ponds #9 has always been one of those holes golfers grumble about over post-round drinks in the bar. It was a difficult driving hole because it was hard to keep the ball in the fairway due to its undulation and crowned shape. Hitting a blind shot over the hill and hoping the ball wouldn't end up in the trees to the right or left was always a concern. Well, Dwight and Brian Zimmermann, owners of Kettle Hills, moved forward with the project to cut four feet off the top of the fairway's hill and smooth it down to create a generous landing area. In the process around 20 trees were removed from the tree lines on either side of the fairway. In addition to moving dirt, 400 feet of irrigation was laid to replace the old lines as well as six new sprinkler heads. This week the final grading took place and the fairway will be dormant seeded with hydro-mulch to keep the seed in place over the winter. Ice, snow and rain won't move the seed and growth will happen in early spring. The hole will re-open in Spring 2018 and should be fully playable by June.

Another big project that happened in October was moving the pond on Rolling #9 to the east. As a result, the fairway and landing area from tee shots is about 15-20 yards wider. This should keep many golf balls safe on the last hole while keeping the pond in play for truly errant shots. The pond often overflowed after hard rain as it was the low area capturing drainage from the rest of the course. To move the pond, it had to be pumped out, dirt moved and refilled. The Rolling Nine should be good to go come Spring 2018.

When it comes to improving Kettle Hills there is always a wish list and plenty of opinions from golfers, staff and ownership alike. Making changes to the course without disturbing regular play, spending a small fortune and working within Mother Nature's time frame are always considerations in renovation. So, many of the improvements done at the course may not even be noticeable to the average golfer including irrigation, equipment upgrades and winter remodeling. We hope you like the new changes as we continue to tackle new projects!
News Source: Kettle Hills Golf Course
Posted November 17, 2017 || Viewed 2,253 times || View Course Profile
Share Comment